Recent Posts
11
« Last post by lungo on Nov 29, 2021, 09:16 pm »
12
« Last post by Sophia on Nov 29, 2021, 02:50 am »
Server Name: Ragnarok Inception
Server website:
https://ro-inception.com/
Rates: 15/15/10 (variable drop rates)
Style: Classic with rolling updates (Currently episode 8.3)
Customs: Palettes, town warper, 10 memo slots, cosmetic headgears.
The server opened on 2021/11/13, and I started playing about a week afterwards around 11/20. It's got a decent population (around 240ish online during busy hours without merchants), and whether you can get a party started with randoms or not seems to be about 50-50. It's a midrate (at least, I consider 15x to be on the low end of midrate or the high end of lowrate), so even though I've only been playing about a week, I'm close to 99 on a couple of characters.
I like the server a lot. It's very snappy, very low lag on the west coast USA and something about the movement code feels really good here. Hit stun is interesting here, when I'm mobbing and I get hit, I don't snap back at all, creating a smoother, more official-like mobbing experience. It's also fun playing a hunter and watching a monster smoothly walk towards you while playing some proper stagger animations; position bugs seem less frequent in general here. This is my first time playing in about a year so I am unsure if this is due to something server-side (it sort of feels like a high tick rate) or if rA code has been updated and this is just normal now.
Anyways, it's run by an admin named Shakto, who knows his stuff when it comes to development and has contributed to the rA repository before. At one point an add-on that facilitated communication between discord and in-game channels started crashing the game server, and he was able to debug it pretty quickly, so I commend him for that.
The monetization model is pretty good. It's all costume/cosmetics in the cash shop, with the exception of a Name Change ticket and a Refined Flywing (Infinite Flywing). The Flywing is 150cp ($1.50 USD) and lasts 7 days. So if you want it constantly for a month, it's about 6 bucks a month. I think that's reasonable for such a QoL item, and everything cash shoppable is tradeable, so I know that right now on the market there's a couple up for like 1.8mil zeny or so.
The WoE scene is budding, there are a few 20ish person guilds, but they all seem low skill. I think if I were to rally the troops and get 6-7 people online for WoE then we could probably win in GvGs. But there is a lot of e-peen battling on the Discord between guilds, so it's kind of amusing to watch them s*** talk each other when none of them seem to be particularly good players. I think it'd be a good server for a serious guild to come in and wreck relatively quickly.
It's a classic server, but like all classic servers, it isn't perfectly replicating episode 8, and the biggest side effect of this is that MVPs are harder in general. This isn't necessarily bad though, as it moves MVP'ing into more solidly an end-game activity, and makes it more of a party-based thing for most of 'em, making it pretty fun. I've run into a few other parties doing mvps now and I haven't had so much fun with FFA competition in bosses in quite awhile.
Overall, I'm really enjoying my time here. It's got a decent population, and I believe in its long term potential, so I'm willing to invest my time here and max out a few chars. I recommend it to anyone who doesn't really want to play another 1-5x low rate atm but is looking for still decently grindy, pick up and play server to have fun on. If the WoE scene matures (and I think it has potential to, but it needs some more talent to come into it), it might turn into a good competitive server, especially with how MVPs are structured. I like the monetization models and the admin team seems competent enough, and insists there won't be any wipes. Plus, the server feels nice and snappy. Overall I don't have much bad to say other than it could use more players, but I mean, it's classic RO in 2021, where couldn't use more players?
13
Can't read the Russian
14
Hello, I'm trying to fin a new server to play on!

What I'd like:
3rd jobs, particularly Doram.
rates around 800, not much interested in x1000.
Story quests.
WoE with multiple castles per map.
English is the main language(it's all I know).

What I don't want AT ALL:
Non-farmable donation items.
rates above x1000, or below x700.
outrageous damage numbers(I'm sick of seeing players that do millions of damage in a single hit).
Marketplaces filled with tons of 1 merchant(eg. TonysStore1 - 35 taking up all the space there is).
15
SERVER IS NOW OPEN !!!!! Download and Register now to get points while waiting ! Barricades will open tomorrow Nov 27, 2021 5PM ( +8GMT ). Please do visit our forums for more details and get an advantage before it opens! Lots of prizes awaits! See you in game Yuppies !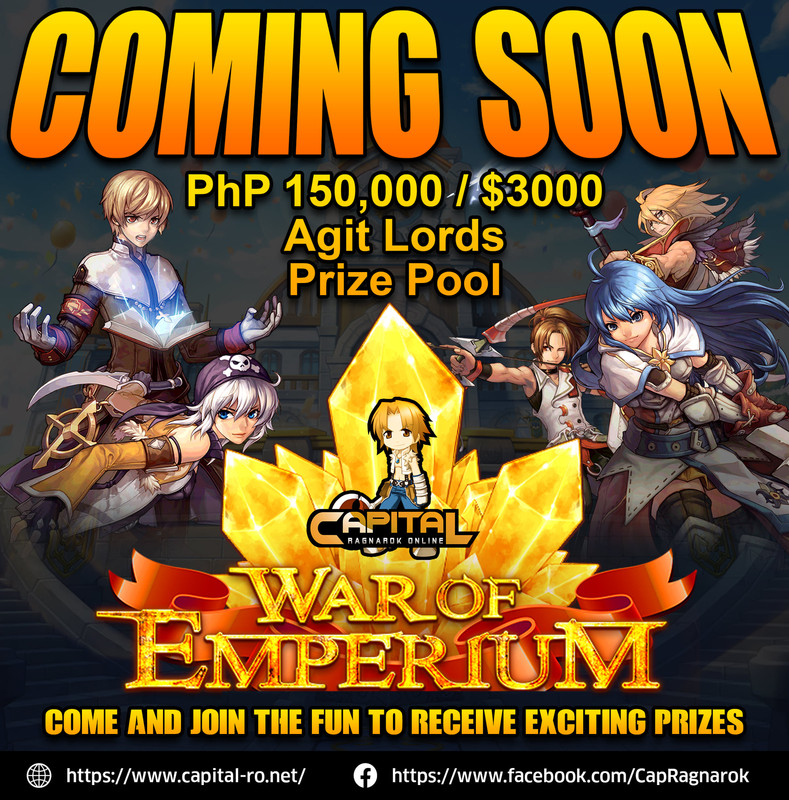 Website:
http://www.capital-ro.net/?module=main
Forums:
https://forum.capital-ro.net/
Facebook Page:
https://web.facebook.com/CapRagnarok
Discord:
https://discord.gg/nnvcypNm
Like and Share Event:
https://bit.ly/30q5eyl
War of Emperium Details:
https://forum.capital-ro.net/index.php?/topic/6-war-of-emperium/
Race to 99 Event:
https://forum.capital-ro.net/index.php?/topic/10-race-to-9970-event/
After months of preparation, the moment to deliver has come. We are professionals from Australia, Canada, Philippines and USA who loves and grew up playing Ragnarok Online. With the experience we have, I think its about time to offer Ragnarok players something they can look forward to. We offer unique system of grinding and lots of in game and monetary prizes. Imagine earning real money while enjoying the game you love. We Aim to be one of the best mid-rate servers out there and we have the best developers and staffs behind us. Server is secured for at least 2-3 years and hoping for more. This server is built for the people who love the game and we will be transparent as much as we can. See you all ! - GM Team
🔥 [Server Rate] 🔥
- Base Rates: 25x | Job 25x | Drop 5x (Basic Rates)
- Base & Job Exp: 25x
- Normal Common/Heal/Usable: 5x
- Normal Equipments: 5x
- MVP & MINI Equipments: 5x
- Normal Cards: 5x
- MVP & Mini-Boss Cards: Disabled
- Quest Experience: 5x
- Pet/Homunculus Intimacy: 10x
🔥 [Server Settings] 🔥
- Episode 10.4 - Hugel ~ A Haven for the forgotten
- Server Mode: Pre-Renewal
- Emulator: rAthena
- Start Job: 2nd Job Classes | 2-1 & 2-2 or with Trans Job
- Max Level: 99/70
- Max Stats: 99
- Max ASPD: 190
- Instant Cast: 150 dex
- Item usage delay: 0.1s
- Party Exp. bonus: 20% per member
- Even Share Range: 15 levels
- Max Party Member: 12 Members
- Max Guild Member: 36 Members
- Dual Log
- RMS Based
- Death Penalty: 2%
- No Extended job classes
- Autotrade [ VIP ONLY ]
- MVP HP x2
- PK on MVP MAP
- Disabled Abyss Lake Quest
- Disabled Kiel Quest
- Disabled Juperos Quest
- Gold coins can be traded to $10 each and Silver coins up to $.10 each.
🔥 [Featured NPC] 🔥
- Cash Shop
- Quest Shop
- VIP System
- Town Warp: Free
- Healer [Required Zeny for Heal] 5,000 Zeny Required, Free: VIP
- Hourly System
- Universal Rent NPC [Use this for Renting Peco Peco, Falcon, Cart]
- Reset Girl [Reset your status using Premium Stones]
- Stylist
- MVP System
And many more....
🔥 [Commands Available] 🔥
- @time
- @whodrops
- @rate
- @request
- @whereis
- @showexp
- @mobinfo
- @refresh
- @autotrade (VIP)
- @lgp
16
« Last post by Oathkeeper on Nov 23, 2021, 06:29 pm »
OATHRO IS HIRING!
Thank you for taking a look at this post and its contents. OathRO is a 1/1/1 server looking to provide a valuable experience to players who want to play RO in its classic state, while enjoying quality of life changes and other small improvements that make the game feel fresh here in 2021.
We are currently looking for experienced individuals to join our staff in these roles:
Community Moderator (Bilingual - EN/Portuguese)
Community Moderator / Rule Moderator
WoE Game Master
Event Game Master / Outreach
OathRO is fast growing and opened its doors only two months ago. Already, we have 500 consistent members on Discord and over 100 people online. If you are interested in one of these roles, please read on to learn more about them. Generally, CMs and GMs are allowed to play the game along with being in their voluntary roles. However, there are certain positions that will require abstaining from joining a guild. Logs and back-end monitoring is regularly performed to maintain the server's integrity.
Community Moderator (Bilingual - EN/Portuguese)
Oversees the needs of the Brazilian population and acts as a liaison for our Portuguese-speaking players
Assists our community lead with rule enforcement and explaining rules to players who speak Portuguese
Provides occasional troubleshooting and technical support to players, especially those who speak only Portuguese
Provides in-game monitoring, enforcing rules, and responding to in-game support requests
Community Moderator (General)
Assists our community lead with rule enforcement and explaining rules to all players
Provides occasional troubleshooting and technical support to players
Provides in-game monitoring, enforcing rules, and responding to in-game support requests
Suggests new ways to better engage the community and create a welcoming environment for players
WoE Game Master
Oversees the general function of WoE and its participants
Identifies and settles any guild disputes that arise or complaints made by players, or collaborates with Server Owner to create new policy regarding WoE
Facilitates the WoE committee discussions that include guild leaders and representatives to identify guild needs and suggestions
Creates proposals of requested seasonal changes to Server Owner based on the committee discussions to improve the overall sustainability and balance of WoE
NOTE: The WoE Game Master cannot participate in any guild-related activities in-game or WoE, the GM is expected to voluntarily abstain from playing in any WoE-participating guild
Event Game Master
Acts as a spokesperson and general community presence in-game and on Discord
Creates new events and facilitates the scheduling and execution of said events with assistance from the Server Owner
Proposes new scripts or other creative ideas that can be used as a basis for facilitating new events unique to the server
While scripting is not necessary, providing quest text or ideas relating to seasonal events and assisting with their implementation is highly preferable
I encourage anyone who feels they are qualified and interested to contact me on Discord at
Maginitis#3357
Note that past experience in similar roles as well as your availability may provide you with additional preference in the candidate review process. These positions are open until filled.
17
« Last post by heRO-GM on Nov 18, 2021, 10:09 am »
Main Website
Forum
Wiki
Download Links
Register an Account
Discord Server
Pre-Renewal
Base Exp - 5x
Job Exp - 5x
Drop Rates - 3x
Gear Drop Rates - 3x and higher
Card Drop Rates - 5x
MVP Card Drop Rates - 3x
Quest Exp - 5x
Regular max levels - (99/70 for trans, 99/50 for 2-1 and 2-2)
Max Attack Speed - 190
Instant Cast - 150 DEX
Extra 80% Exp per party member when in share
Max Party Limit - 18
Reset NPC - Free until Lv. 50
Healer - Free until Lv. 50
Job Changer - Free but if you do the original job quest he gives you rewards instead
Banker - To hold and transfer zeny between characters and accounts
Town & Dungeon Warper - (Requires unlocking, and only warps you to the first floor or outside)
Plagiarism NPC - An NPC for rogues and stalkers that will teach a new skill (60+) for a small fee
Many Custom Headgears, Hairstyles (100+), Hair Colors (15+) and Dyes (150+),
Several Public and Private DB/BB Rooms
Custom drop rate adjustment for older, weaker gears
7 Churches with same-sex wedding support
Various PVP Rooms
Buying Stores
Balanced Customs: No overpowered items. We take care to balance our customs, be it monsters or gears.
Super Stable: As of 2021 heRO has been up for 15 years now, with no wipes ever!
GM Team: Nice, active staff and support ticket system always available!
Wednesday Vanilla WoE - 9:00 PM to 10:00 PM (EST GMT-5)
Saturday Vanilla WoE - 11:00 AM to 12:00 PM (EST GMT-5)
Commands
: @rates, @autotrade, @exp, @me, @partyoption, @iteminfo, @ii, @help, @homtalk, @noask, @pettalk, @breakguild, @join, @main, @whosell, @ws, @reject, @autoloottype, @alootid, @who, @who2, @changeleader, @time, @uptime, @channel, @showexp, @showdelay, @accept, @whereis, @whodrops, @leave, @hominfo, @invite, @commands, @jailtime, @autoloot, @font, @homstats, @duel, @mobinfo, @mi, @petmute, @restock
Allegiance System
: There is constant conflict between the followers of the light and the forces of darkness. You can swear your allegiance to either of them to access a variety of special quests (including the
Army Supply Quest
which allows you an alternative option for unlocking certain dungeons), thematic gears, and you can prove yourself by participating in the epic
Trial of Heroes
competitions against the opposing allegiance!
Chronicles of Heroes
: The server's storyline! Be part of it and witness it unfold and affect the world around you!
HeRO's Journey
: heRO has a special quest you can start whenever you create a new character as an alternative to leveling traditionally. It is a character bound quest that takes you through levels 1-80 non trans and introduces you to some of the different customs content you will encounter within heRO.
Mission Board System
: With this fully automated system, you can post the item you want and how much you're paying, and other players can hunt the item for you!
Fishing
&
Mining
: By fishing you can obtain consumables that heal HP and SP, while mining can provide useful rocks and ores like Oridecon, Elunium and Lv 4 Weapon stones. If you're lucky enough you can even play special mini-games!
Nobility System
: The Kingdom of Rune-Midgard is running low on funds, and King Ernst is willing to grant noble titles on heroes who bring him gold. Nobles are rewarded with a special mid-headgear gem that boost a stat of their choosing. They also receive monthly rewards from the King and have access to certain improved services, as well as special clothing dyes, hairstyles, exclusive costumes, and now the members of nobility can get a mount for travelling around in game!
Orphanage System
: Create a baby class without the need to be adopted!
Modified Official Locations
: We have renewal areas that are rebalanced to fit our pre-renewal mechanics, such as Manuk, Splendide, Scaraba Hole, Bifrost, Dewata, Malangdo, and more!
The Lutia Region
: Pay a visit to the lands beyond the town of Lutie, a fully custom expansion including 15+ custom maps, 15+ quests with a unique storyline, many new monsters, and more!
The Faeheim Region
: The fairies of Rune-Midgard have finally found a suitable land to rebuild their home after it was destroyed centuries ago. With 12 fields, 4 town and indoor maps, 3 dungeon floors, and 35+ quests, many of them for headgears. Plenty of adventures to be had! Journey into the colorful lands and see what awaits you!
Other Custom Areas
: HeRO is also home to several other custom areas, such as Muspelheim, Thanatos basement, Poring Islands and more!
Custom Quests
: There are countless quests to keep heroes busy and entertained, plus many custom seasonal quests and contents for holidays or as part of the server storyline. Additionally, some old official quests are updated, such as those that require hundreds of items for effect-less headgears, or the "Class Training Quests" that help new players.
Pets
: HeRO has many custom pets, which drop their own tame and usually, their food as well. Light/Dark pets, such as Angeling, Deviling, Retribution and Observation, can be obtained via Allegiance Quests.
Headgears
: We have many custom headgears and costumes! They can be obtained from monsters, quests, events, vote for points or Mr. Hatter!
Donations
: Our donations are balanced. No over-powered items are obtained through donation. They are mostly chance items or items already available in game (OPB, Rough Enriched Ore, Allegiance Token), and GM Services (which can be obtained from V4P) used to change name, gender or transfer locked items. You can also donate to double the drop rates of a non-boss monster in particular, benefiting the whole server.
GM Hosted Events and Automated Events
: GMs host many different events, such as Monster Invasion, Hide & Seek, Trivia, PVP for Items, Flower Maze, and more, and if you have an event bag, you can use it to start an automated event such as Poring Smash, Fabre Tame, Zombie Run, etc.
Community
: HeRO has one of the nicest communities around, always answering questions on Discord and willing to help newcomers get started.
So, what are you waiting for? Join us and become a hero!
18
« Last post by Kris on Nov 18, 2021, 03:55 am »
- can't find a SI
- can't find a job
- can't afford next-gen consoles

/thread
19
« Last post by MCJV on Nov 17, 2021, 08:35 am »
Bump. Available!

Discord: Frosch#9121
20
« Last post by Playtester on Nov 16, 2021, 05:29 pm »
For me it's mainly because RO has features no other MMORPG ever implemented right. Like the completely non-linear progression and the fact that monster have (almost) no local spawns so you actually have to walk around maps and explore to find more.

I'm still waiting for an MMORPG that really gets it right, so far everything that said it's inspired by RO failed completely at it.

Also I think the emulators really help this game because being able to customize your experience is something really valuable. Up to the point where I wonder why no company did just does it themselves yet. I would think that for example if a streamer could have someone set up a customized server for him where all the viewers can join in seems like something that could go viral.